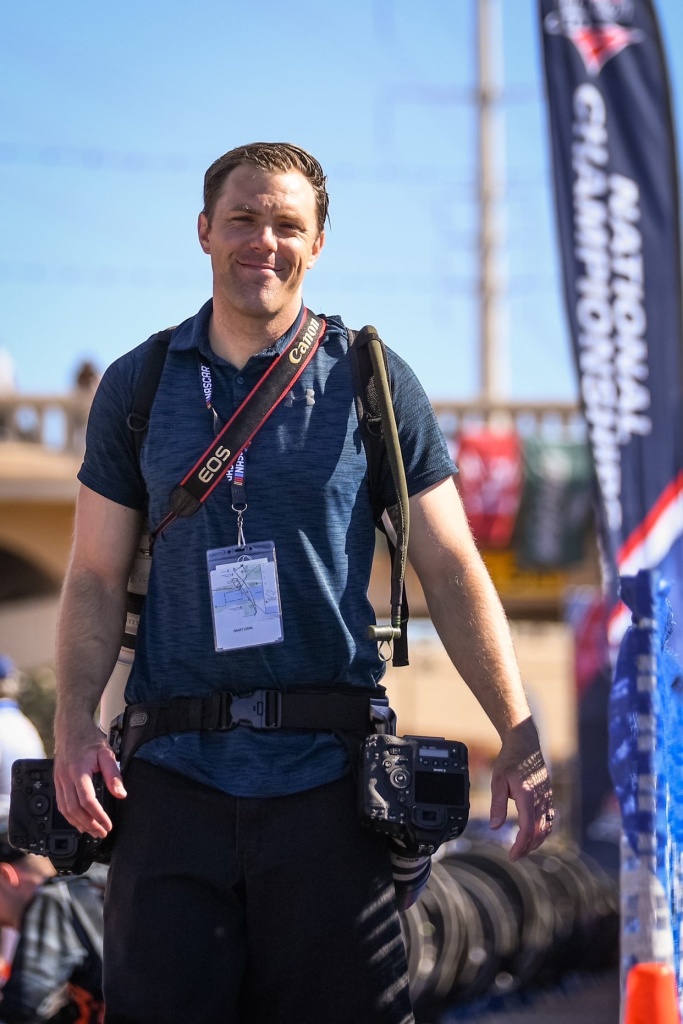 Zac BonDurant Photography
A photograph can effectively communicate a multitude of emotions and tell a million stories. This is Zac BonDurant's favorite part if being a photographer. Zac has always enjoyed looking at sports magazines and admiring the work of the photographers, quite often more than the article itself. It wasn't until a camera was placed in his hands in high school and told to go take photos of whatever he wanted did he realize that this was his passion. His efforts immediately went into shooting high school football and learning as much as he could about the process.
He was fortunate enough, with his determination, to connect with Dirt Rider Magazine to cover amateur racing, iron man racing, AMA Pro motocross events, and Endurocross for the website and magazine. He learned a lot about the profession and made the most out of every opportunity. After completing college he became more involved in photographing Arizona State University hockey and started building up his portfolio.
Currently Zac covers Baseball, Softball, Football, Men and Women's basketball, NCAA Wrestling, Hockey, Auto Racing, Soccer, Music Festivals, Gymnastics, Golf, and Editorial assignments for Getty Images, USA Today, ICON Sportswire, House of Sparky, local newspapers, and NCAA teams visiting Phoenix, Tempe, and Tucson.
Zac's professionalism and drive has propelled him to make opportunities come to fruition and find ways to continuously grow and enjoy the process of being a sports photographer. Please connect with him at [email protected] or at (909) 967-4479.
Client List:
Getty Images
USA Today
ICON Sportswire
PAC-12: 2023 Women's Golf Conference Championship
University of Southern California (USC) Women's Golf 2023 NCAA National Championship round.
North Carolina State Women's Golf (2023 NCAA Championship)
University of Washington Softball (2023 Inaugural PAC-12 Softball Tournament)
Los Angeles Angels 2023 (Head Shot Photographer: Media Day)
Oregon State Baseball Opening Weekend 2023
Michigan State Baseball Opening Weekend 2023
UC San Diego Baseball Opening Weekend 2023
Michigan Tech Men's Hockey: 2023 Desert Classic Tournament
University of Michigan Men's Golf 2023 Desert Mountain Invitational 
Michigan State Softball (2023 GCU/ASU Classic)
Northwestern Softball: 2022 Tempe Super Regionals
UC Fullerton Softball: 2022 Tempe Regionals
UC Santa Barbara Baseball: 2021 Tucson Regionals
Little Rock Wrestling: PAC-12 Championships
East Tennessee Triathlon: NCAA Triathlon Championships 2021, 2022
Colorado Mesa Triathlon: NCAA Triathlon Championships 2021, 2022
Wingate Triathlon: NCAA Triathlon Championships 2021, 2022
Queens University Triathlon: NCAA Triathlon Championships 2021, 2022
Chicago Fire MLS Pre-Season 2023
UMass Lowell Hockey: Opening weekend
Arizona Republic
East Valley Tribune
GCU Today News
Boise State Gymnastics
Cal Softball
Utah Tech Baseball: Opening Weekend
Utah Tech Men's Basketball
Illinois State Softball 2022, 2023 Littlewood Classic Tournament
Binghamton Softball
Long Beach State Soccer
Santa Clara Volleyball
CSU Bakersfield Volleyball
University of Arizona Men's Golf